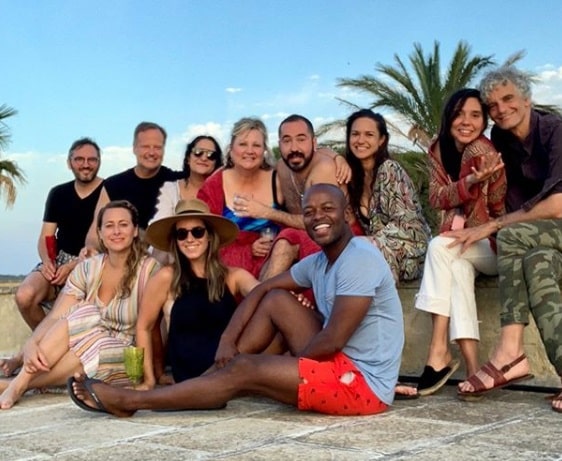 Bio, Age, Weight, Height, Facts, Controversies, Net Worth, Family Tree, Personal life
For our readers today we have selected one of the renowned anchors and reporters in America, Kendis Gibson. He works for the ABC News Channel. Our guide will help you explore near about every possible fact and personal information available at the moment of this celebrity. So sit back and enjoy this joy ride of information.
Real Name:-
Kendis Gibson
Nick Name:-
Gibson
Profession:-
News Anchor and reporter
Nationality:-
American
Physical Stats:-
This portion of the celebrity's bio will help you get acquainted with the physical attributes of importance that you might want to know.
Kendis Gibson is an attractive African American journalist. His height and weight are unknown for public record but seeing him in news it is speculated that he has average body, height and weight. His eyes and hairs are both black. However most of the time he is seen bald wearing business attire. The reason for his suit wearing is because of his job as a news anchor.
Personal life:-
For personal life we have carefully selected all the necessary items ranging from date of birth to their family tree that can be of importance to the fans.
The career highlights from start to present for Kendis Gibson are as follows.
For the start of his career as a news anchor he worked for nearly three years in NBC Station of Rochester New York.
After quitting from NBC, Kendis moved to WTXF and starred as their morning news anchor and reporter. While working there he won two Emmy Awards for the titles of "Outstanding News Reporting" and "Sports Feature".
He was called by WNBC News Channel in New York to work as their news anchor and reporter and he moved back there. While working at WNBC, Kendis reported major stories like "Crash of Concorde" and the 9/11 attack. Kendis was only living few blocks down the world trade centre and when the attack happened, he was the first reporter on the scene.
In 2002, Kendis joined the CNN for their CNN News Headline. While being at CNN for three years, Kendis often visited Academy Awards and Grammy Awards on Red Carpet.
Gibson was also news anchor for the HGTV's "I Want That" and for KSWB-TV's news.
Kendis after leaving CNN in 2010 joined the CBS News in Los Angeles area and worked for the position of West Coast CBS News Correspondent. He also worked there as the entertainment correspondent.
In 2011, Gibson Joined an affiliate channel of ABC, WJLA in Washington, DC.
In late 2013, Gibson joined the ABC news as correspondent and is also the co-anchor for news program World News Now.
Apart from his work as a journalist he has joined the NABJ (National Association of Black Journalists).
This much of career resume indicates that Kendis Gibson indeed has a gift when it comes to Journalism as every major news channel and program is eager to snatch him to improve their ratings. Kendis has the best news presentation skills that keep the audience entranced for time being.
Date of Birth:-
September 6th, 1978
Birth Place:-
Belize, Central America
Zodiac Sign:-
Libra
Religion:-
Christian
Controversies:-
The only known controversy about him is also a rumor that he is gay by sexual orientation and is keeping it a secret. The hoax was started when Kendis Gibson gave off suspicion in an interview about being gay. However Kendis has rejected all these notions. Controversy only got stronger and more heated because he has not been seen dating any girl for a long period of time.
Facts:-
Kendis Gibson while born in Central America moved to USA on his own. He worked hard to earn himself a good education and a proper career of a journalist.
Kendis completed his graduation from University of New York at Oswego. His degree was in Bachelors of Political Science.
He is the member of National Association for Black Journalists.
Net worth:-
Kendis Gibson has worked with major News channel in the past and is still working for the major channels to date. All of the places he was working on were high end channels that only took the best and Kendis was requested to be part of their team. This only means that he was given the pay of his own demand. While he has been working the News industry for nearly a decade it is hard to imagine that he has not amassed himself a fortune in that period but the fact is that the estimate of his net worth is not made public. It is only estimated by experts that he has a Net Worth of about 800,000 dollars.
Houses:-
Kendis Gibson has maintained his residence in multiple cities as his work took him to various different cities. He always maintained a rented place for living as he was not aware that where fate might lead him next. Currently working as the news anchor and correspondent for ABC News, Kendis is maintaining his residence in an apartment located in New York City. The address is not made public due to private reasons.
Family Tree:-
Little is known about the family life of Kendis Gibson as Kendis himself is secretive about it. The only known facts are those that he gave himself in interviews and on websites. Kendis was born in Belize, Central America to an African American family. Other than that not much is known at the moment.
Father Name:-
The name of his father is not known.
Mother Name:-
Not available
Siblings:-
He has no known siblings.
Children:-
He has no children of his own.
Affairs:-
Like all of his private life, Kendis Gibson also kept his love life a secret. Nobody has seen him with a girlfriend for a very long time. Some start speculating that he might be gay and is not coming out of the closet yet. However Kendis Gibson denied all these controversial comments about him and he replied only with,
"That I like to keep it personal to myself".
Download Best WordPress Themes Free Download
Download Best WordPress Themes Free Download
Download Nulled WordPress Themes
Premium WordPress Themes Download
free online course
download redmi firmware
Download Nulled WordPress Themes
udemy free download